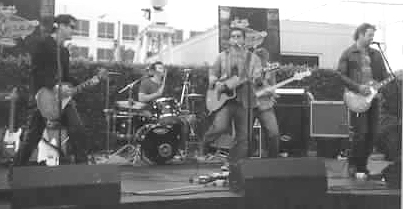 Scarlet Crush @ The Grove.

This event took place at The Grove in Anaheim, California. Linda's Star Gazer lounge presents pre/ and or post party entertainment that's free to all ages before/after concerts inside the venue. Even if you don't have tickets to the main show, this is a really great way to spend a few hours.
We were fortunate enough to be invited to the INXS pre party show. The featured band was Scarlet Crush. What an amazing band, to hear and see perform. They have a pop rock sound with an edge that's unique, but similiar to Green Day and Weezer. They have a wonderful stage presence and got the crowd going with their charm, and infectious melodies.
Scarlet Crush was formed in Orange County, California in 1998. They are: Jeff Smetana (vocals/guitar), Jeff Sterzer (lead guitar), Dax Maddocks (vocals/guitar), Brett Scott (Bass), John Glover (Drums).
Scarlet Crush realizes that music is the soundtrack to our lives. The band's music scores the good and the bad situations that may arise. " For us it's about capturing things we've all felt at some point while listening to music. There's that indefinable something that happens inside.... a stirring of the spirit in response to the beauty of a melody or vibe. I remember thinking that if I can give that feeling to someone else while I was playing music then I would be satisfied. " says Jeff Smetana.
Scarlet Crush is an amazing band and a great group of guys. The next chance you get to catch them in concert you should. We'll do our best to keep you posted on what's going on with them.

Scarlet Crush @ the Grove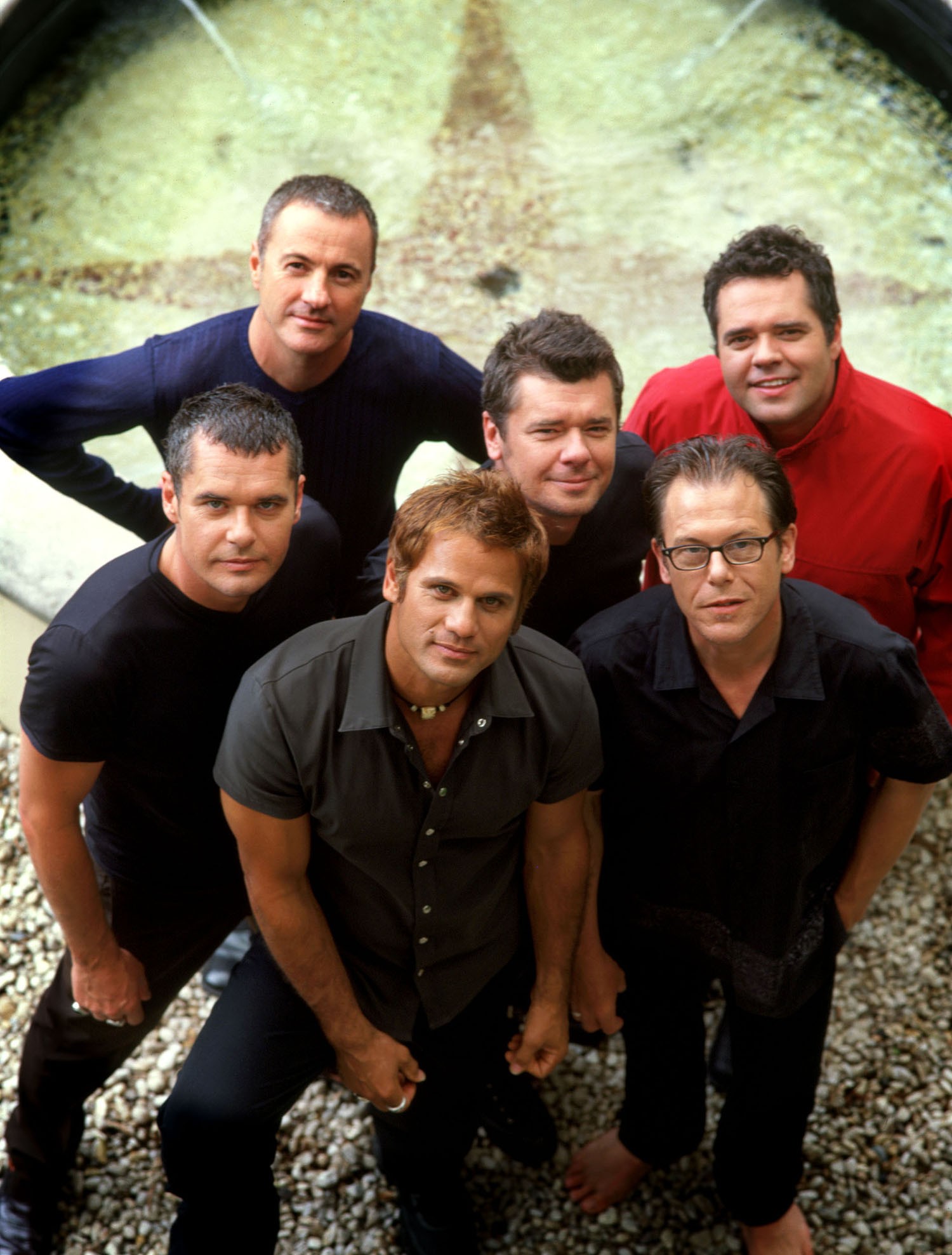 INXS 2002, featuring Jon Stevens.

INXS has sold more than 30 million records worldwide, and will return to the United States to perform their first show in more than five years. Kirk Pengilly (guitar/saxophone), Garry Beers (Bass), Tim Farriss (guitar), Andrew Farriss ( keyboard/guitar), Jon Farriss (drums) and featured vocalist Jon Stevens will kick off a 40-city tour starting May 30 in Anaheim, CA. They will play such INXS classics as " Need You Tonight," "Devil Inside," and "New Sensation"--songs that are emblematic of the group's hard-hitting funkified rock.
"Much of our career has been spent in America and Canada and it'll be great to be back playing there again," said Kirk Penguilly. " We honestly can't wait," added Tim Farriss.
INXS understandably took some time off to consider their future, after the tragic death of Michael Hutchence in November of 1997. They pondered whether there would be a future without Michael. After touring for 23 years, the break offered an opportunity for the group's members to pursue individual projects ( writing, producing, and performing).
However, the group's love for performing drew them back towards the stage. INXS received an invitation to open Sydney's Olympic Stadium in June 1999. That was the catalyst. Rather than replace Michael, the idea of performing with various great vocalists was more appealing, and Terence Trent D'Arby took the role for the Olympic Stadium concert. " It's no secret we loved playing live. That's what we did for 23 years and we definitely missed being on stage," Tim said.
In May 2000, the group's close friend Jon Stevens--the former frontman with Australia's Noiseworks--took on guest vocals for INXS' first concert since October, 1997. The feedback from fans an critics was extraordinary. Over the past year, Jon teamed with INXS for several major concerts, including a 13-date tour of Northern Australia. The success of that tour and one in Vienna fueled the desire for more touring. In August, INXS returned to Europe for five additional shows.
Band member Andrew Farriss said," No-one will ever replace Michael as the lead singer of INXS. At the same time, we all still have a passion to perform and to continue doing what we love. In the past year we've played some shows with Jon, who is a fantastic singer. It has felt very comfortable, and sounded pretty damn good, so it seems a natural progression to perform together for this U.S. tour."