Artist Eva Santos based in Cebu City, located in the Philippines is an up and coming pop rock sensation. Eva's self titled album is being distributed by BMG nationwide.
Eva Santos, former lead singer of the Zee band is well established in many Asian markets. In her native Philippines, she's been honored with the following accomplishments. In 1992, she was the Philippine Representative to the Midnight Song Festival in Lahti, Finland. She was the second runner up for the composition entitled- " Just Like You and Me" She was the only composer from the Philippines to sing her own composition in an international song festival.
In 1998, Eva portrayed the lead role "Lili" for the Broadway musical classic, The Carnival. This event was held at the Cebu Hotel, and was directed by Dr. Vernon Wenberg of the Minnesota's Actor's Guild. Also this same year She became a Perlas Awardee for Most Valuable Filipino in the field of Singing.
She brought in the 21st century by starting to record her 1st album in Manila. Only one song on the album is not written by Eva.
Currently, Eva Santos has finished her first album mastered by Barry Corliss at Masterworks in Seattle, Washington. Special guests on the album include Jay Cayuca, Kyle Gianan of the Rap Skallion and The Company. Eva Santos has been fortunate enough to have her song " Love is the Answer" reach #1 on both Asia, Philippine, and MP3.com charts.
If pop rock with a R & B feel and well written lyrics appeal to you, you'll enjoy Eva's songs. Stay Tuned for Eva's album review and web radio station airplay. These will all be apart of our next edition.

<![if !vml]>
<![endif]>
Lauri Jo Chapman is an amazing singer/songwriter. Her music is melodic and tranquil pop rock. She has just completed seven songs, and is featured in our web radio station.

Lauri Jo Chapman was drawn to music early. She began her training on the piano at age 5. It's through this that she fell in love with composing pop music. She sang in chorus and different church choral groups growing up. She even studied opera for several years.

In 1990, she moved to New York City. Lauri worked on a variety of music projects with different songwriters, artists, and producers. In 1995, she formed her own band " A Girl Named Jo." They performed original music in various clubs throughout Long Island. In 1997, Her band broke up. Lauri then went on a solo tour for 11 months in Germany that same year.

In 1998-99, she finished a 10 month tour of Canada. Lauri Jo Chapman is currently recording at Cove Studios in New York (SONY) with Richie Conatta Billy Joel's original sax player. Cove is where Celine, J. Lo, Anastasia, and Mandy Moore to name a few recorded. Milleville Music is currently interested in the publishing rights for the song " Don't Let it Go."

Lauri's music has developed a raw emotional energy that is clearly honest and evident in her voice, music, and lyrics. She has enough material to record a couple albums.

Lauri Jo Chapamn has had the following musical accomplishments: On the MP3.com music charts, her song " I Wonder" is #14, " Good Luv" is #21, and "Don't Let Go" is #88 out of approximately 600 songs. She also received the " Director's Award of Merit for the song " Don't Let Go" from the song contest by Paramount Nashville.

She is a tremendous artist, with a lot of talent I'm sure we'll all be hearing more about her as time goes on. Lauri's CD sampler will be reviewed in our next edition .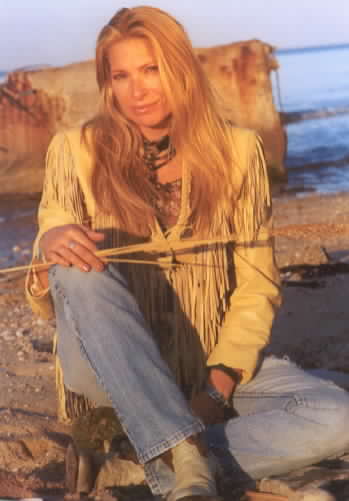 Lauri Jo Chapman