This is an editorial of sorts. Each month the topic will change. Since we're new, I'm going to take some time to explain our policy on submission requests. We accept all forms of media. We will review or feature films/videos, bands all genres, writers, artwork ( photos, drawings, cartoons etc.)

To make things easier to process we have asked that submissions be in the following forms. If you are submitting a band for review and or to be placed in the web radio station, please do so in this manner. If you want your band to appear on the web radio station please send us a copy of your CD. It doesn't have to be super fancy, but we have to change the birate in order to upload it into the station. It's easier to do with a CD. If you just want an album reviewed, and don't wish to be a part of the station you can send us a link to your MP3. Please in either case send us a press kit and or bio about your band.

If you are submitting artwork, photos or anything that might be in picture form. Please send your stuff in the form of either a PC compatible Jpeg or gif , no more than 72 dpi. If this is too complicated for you, just send the picture or whatever and we'll do the rest. Like with all categories, you have the option of e-mailing or snail mailing the items to us. Please send complete information regarding your work.

If you wish to send a film/video/DVD. Please make sure these mediums are compatible with United States coding system NTSC. Otherwise, we will not be able to review your items.

If you are submitting a written piece, and it's over 10 pages. Please send us a copy via snail mail. If your poem, story, sample story etc. is under 10 pages please feel free to e-mail us with your written work.

If you want us to take pictures of your live performance and you are in the Southern California area. Let us know when you will play, and if possible give us a couple alternate dates. We will confirm a date with you, and it would be helpful if you could put us on your press list or guest list, whichever if applicable.

The same rules that apply to Web Radio Airplay also affect Audio Artist Spotlight and Station Ids. Anything audio that's uploaded into the web radio station must be in CD form. For specific information about your situation please contact the editor.

If you would like to schedule an online chat session in our chat room, please contact the editor for specific information.

All items sent to us will not be returned. By sending us an item to review, you are consenting to give us permission to give publicity to the item(s) in Fighterguppy Fanzine (TM) and or Fighterguppy Radio(TM).

For information on the variety of ways to contact us, please click on the contact link.

Rabbithead live at The Garage.
Scarlet Crush Live @ The Grove.

The policy that we abide by at Fighterguppy Fanzine (TM) is that we are not here to be critical of other people's work. It takes a lot of courage to express one's self creatively. We come from an artistic background and do really love the arts, as opposed to wanting to kill them. We understand that not every picture or song will appeal to everybody.
That's okay. That is what's beautiful about art. It has different meanings to different people. I might see something as brilliant, and you might see it as stupid. We're both right. We've taken the stance that every project, we receive that has some sort of artistic integrity and should be heard or seen.
We will merely give you a description, so that you can decide if that's something you like. Whenever possible, we all should jump out of our comfort zone and try something new. The idea that someone should be reviewed by a critic is completely outdated. We're smart enough as people to know what we like and don't like. We don't need someone to tell us what we should or should not like. The moral of the story is: If you need your art spoon fed to you, keep stepping, because here we feed ourselves.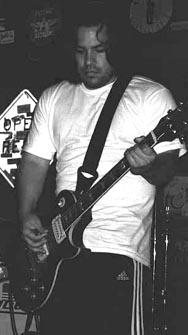 BlackVelvet3 @ The Garage.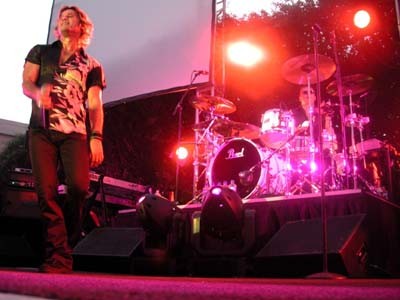 INXS live in concert

We all want something for free, and don't you hate it when people tell you something is free and there's a hidden charge? We try and be as honest as possible with people. That's why we're calling this the almost free stuff section.
We get from time to time shipments of CDs, bumper stickers, key chains, sometimes T-shirts etc. These items are all promotional items that bands/ businesses use to further awareness of their product or themselves.
What we are offering you, as long as supplies last, is a grab bag of stuff. We will hand out this stuff as long as people give it to us. We are not a multi-million dollar corporation, so what we ask from you is to pay for the postage. If you live in the United States that postage is $5. If you live outside of the USA that postage is $10.
We can not guarantee that every grab bag will be identical. If your buddy gets something that you don't it just means we ran out of that item. That also works for you, you can order as many grab bags as you'd like and always end up with something new.
Here's how to get cool promotional items that will impress your friends. Go to our contact page and send us a money order in US funds to the address listed. Make sure you enclose a card with your name, address, style of music liked, shirt size etc. This information will help us make a grab bag for you that will fit your personal tastes. We will provide you with e-mail confirmation when your package has been mailed, if you include that in your envelope. It's that simple.
Currently, we have stuff from Audiovent, The Scorpion King, Sarah Fimm, Sandy Adina, Bob G's Cool Jazz, Skin Lab and many others. Look for more information on Sarah Fimm, and Sandy Adina in our second edition.
Now if you are a band, or artist of any kind and you'd love to have random people end up with your product, send us however many copies you wish to give away. They will be sent. If you have any questions about getting a grab bag or contributing to it please contact the editor. The link for this as well as all other contact information is on the contact page.